Babies Made Us Modern: How Infants Brought Americans into the Twentieth Century (Cambridge University Press, 2018)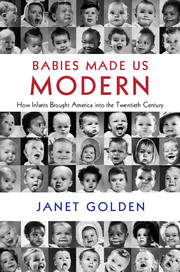 Interview about the book: https://www.youtube.com/watch?v=BgGKEMSVnuQ
Placing babies' lives at the center of her narrative, historian Janet Golden analyzes the dramatic transformations in the lives of American babies during the twentieth century. She examines how babies shaped American society and culture and led their families into the modern world to become more accepting of scientific medicine, active consumers, open to new theories of human psychological development, and welcoming of government advice and programs. Importantly Golden also connects the reduction in infant mortality to the increasing privatization of American lives. She also examines the influence of cultural traditions and religious practices upon the diversity of infant lives, exploring the ways class, race, region, gender, and community shaped life in the nursery and household. 
1. Infant lives and deaths: incubators, demographics, photographs; 2. Valuing babies: economics, social welfare, progressives; 3. Helping citizen baby: the US Children's Bureau, good advice, better babies; 4. Bringing up babies I: giving, spending, saving, praying; 5. Bringing up babies II: health and illness, food and drink; 6. Helping baby citizens: traditional healers, patent medicines, local cultures; 7. The inner lives of babies: infant psychology; 8. Babies' changing times: depression, war, peace; 9. Baby boom babies; Coda. Kissing and dismissing babies: American exceptionalism.
Advance praise:'Golden's manuscript as history is overall so full of rich detail, so nicely presented and so widely researched that it will make an important addition to the literature on childhood, on modern childrearing, and on the larger question of where children fit into American history. It is the complex, often unexpected, and subtle way in which Golden argues for how babies have brought Americans into the modern world that makes the book both a pleasure to read and groundbreaking.'
Paula Fass – University of California, Berkeley
Advance praise:'This fascinating, richly researched history is essential reading for anyone interested in understanding the American paradox: How a nation that professes to love babies can have the highest rate of infant mortality in any wealthy society. As Golden demonstrates, shifting attitudes toward babies radically reshaped medical practice, consumer spending, governmental policy, and public understanding of human development – even as large numbers of infants continued to grow up in poverty and without adequate care or stimulation.'
Steven Mintz – University of Texas, Austin
Advance praise:'This is a wonderful book about how our evolving view of infancy changed our world; Janet Golden has brought the lost images and voices of babies and their caregivers back into our national story and created a book that will be of interest to all who care about American history, and about child development.'
Perri Klass – New York University
Advance praise:'What a unique perspective on twentieth-century America. Janet Golden, an exquisite storyteller and spectacular sleuth, uncovered odd bits of history brilliantly gleaned from babies – our non-verbal, cooing descendants. She has incubated this novel thesis: The modern era was propelled, in part, by a quest to keep babies alive, disease-free, well fed and happy. You'll be shocked, entertained and utterly convinced.'
Randi Hutter Epstein – Yale University
Janet Golden, Ph.D. is Professor of History at Rutgers University where she specializes in the history of medicine, history of childhood, women's history and American social history.  She is the author or editor of nine books. She co-edits the Critical Issues in Health and Medicine Series at Rutgers University Press and the Philadelphia Inquirer's public health blog "The Public's Health." Dr. Golden is the recipient of numerous grants and fellowships, including those awarded by the National Institutes of Health, the National Endowment for the Humanities, the Commonwealth Fund, and the American College of Obstetricians and Gynecologists.  Her work has been supported by the National Endowment for the Humanities, the National Institutes of Health, and the Commonwealth Fund, among others.